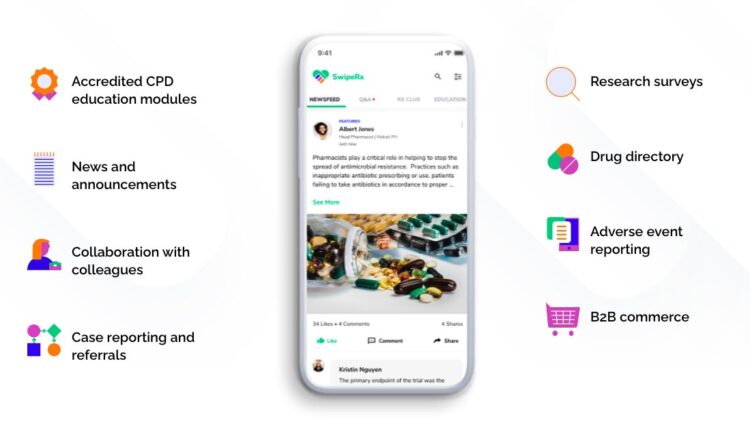 Southeast Asian online pharmacy platform SwipeRx bags $27M in Series B funding
Singapore-headquartered online pharmacy platform SwipeRx has raised $27 million in a Series B funding round led by MDI Ventures. 
It also received backing from global investors, including the Bill & Melinda Gates Foundation, Johnson & Johnson Impact Ventures, and Susquehanna International Group. 
WHAT IT DOES
Formerly mClinica Pharmacy Solutions, SwipeRx operates an online platform where pharmacists across Southeast Asia can connect with one another. Since its inception, it has aimed to bring together the fragmented pharmacies in the region that had operated in silos and had yet to digitise.
Its mobile platform also provides access to B2B commerce for purchasing medicines, as well as access to accredited CPD education modules and the latest industry news and information. 
SwipeRx has grown its network to over 235,000 pharmacy professionals and 45,000 pharmacies across Indonesia, the Philippines, Vietnam, Malaysia, Thailand and Cambodia.
WHAT IT'S FOR
In a press statement, the company said its fresh funds will be used to accelerate its growth in Southeast Asia. Specifically, it intends to increase its network of pharmacies, expand its logistics to fulfil more medicine supply orders, hasten technological innovation, and recruit more talent in the region.
MARKET SNAPSHOT
Early this year, Hyphens Pharma formally launched the first Health Sciences Authority-approved digital pharmacy in Singapore. WellAway, which the company manages through its digital venture DocMed, provides e-prescriptions and offers direct medicines delivery. The online pharmacy aims to onboard around 1,000 clinics by the end of the year.
According to Statista, Asia's online pharmacy segment is expected to hit $18.9 billion in revenue by 2026, growing at 13.9% CAGR from 2022.
ON THE RECORD
"This funding round reaffirms our commitment to disrupt this deeply fragmented industry while improving public health by supporting the pharmacy channel. We are excited to hold the pole position in [Southeast Asia] as a platform that has transformed and digitised the pharmacy industry, becoming their one-stop platform to perform all daily tasks from education to purchasing to inventory financing," said SwipeRx CEO and founder Farouk Meralli.