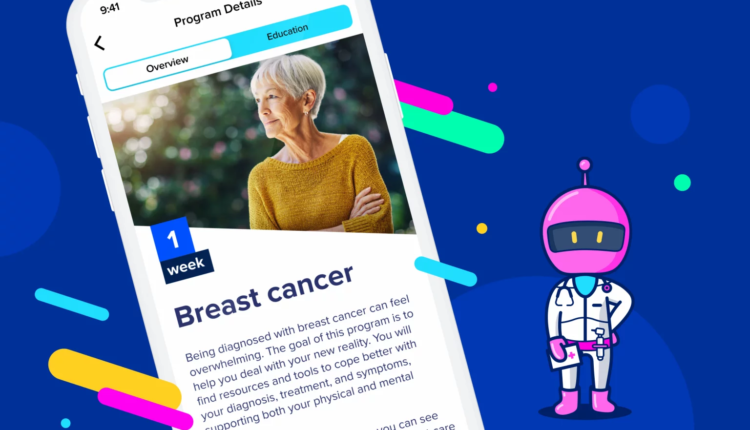 Roundup: Sidekick Health and Lilly collaborate to support breast cancer patients, Alder Hey Children's NHS FT launches 'hospital without walls'
Sidekick Health and Lilly collaborate to support breast cancer patients
Digital therapeutics (DTx) startup Sidekick Health has announced an integrated solution in conjunction with pharma firm Eli Lilly and Company for patients with breast cancer.
Through Sidekick's platform, patients will be given access to a tailored digital treatment plan to promote behaviour modification and overcome barriers to change. Patients will also be able to access educational content on living with cancer. The integrated DTx offering will be initially rolled out in Germany from July.
Dr Tryggvi Thorgeirsson, CEO and cofounder, Sidekick, said: "At Sidekick, it is our goal to empower patients to take real steps toward better managing their disease and alleviating the negative side effects of treatment."
Alder Hey Children's NHS Foundation Trust launches 'hospital without walls'
Alder Hey Children's NHS Foundation Trust has launched an interactive and immersive digital platform to create a "hospital without walls" for families, children, young people and clinicians to manage, treat, educate and coordinate delivery of their healthcare. 
The AlderHey@nywhere™ platform was developed by Alder Hey Innovation in collaboration with Microsoft and healthtech firm Mindwave as a solution to addressing the finite capacity of hospital and community resources.
Managing director, Alder Hey Innovation, Claire Liddy, said: "What we want to do is to shift to a more preventative model of care that is individualised and tailored and that empowers children and young people to take ownership of their healthcare and treatment."
Nordic nurse-tech pioneer to launch in the UK
Norway's VAR Healthcare, a provider of online knowledge and decision support systems for frontline staff across Scandinavia, is to launch in the UK.
The company is commencing a pilot scheme with staff at Leeds Teaching Hospitals NHS Trust with the support of the Innovation Pop Up.
VAR Healthcare provides nurses and healthcare professionals with a digital tool to quickly access details of hundreds of clinical procedures to support safe and continuous patient care.
Ann Kristin Rotegård PhD, managing director, VAR Healthcaresaid: "We have ambitions to spread out further and share best practice to support all nurses so they can give the best possible patient care."
Swedish firm HN rolls out AI population health tool to NHS
An artificial intelligence (AI) tool created by Swedish scale-up HN has proved it can identify 83% of people who would otherwise need unplanned hospital care months in advance. 
The tool, called HN Predict, was tested on NHS Greater Glasgow & Clyde's existing patient data and is being implemented in integrated care systems in Staffordshire, North Yorkshire, Scotland and the Republic of Ireland.  
In a clinical trial, published in the British Journal of General Practice, one out of four referrals to hospitals identified by the AI-tool could be prevented by supporting these high-risk patients with nurse-led, virtual ward support. 
Dr Joachim Werr, founder and executive chair, HN, said: "HN Predict works by applying machine learning to routinely collected healthcare data, turning existing information into a powerful source for preventive healthcare.​"
Ibex obtains CE Mark for AI-powered gastric cancer detection solution 
Israel-based startup Ibex Medical Analytics has announced a CE mark for Galen Gastric, a diagnostics solution that supports pathologists in the detection of various types of gastric cancer. 
The CE mark follows results from a blinded, multi-site clinical study at Medipath pathology network in France and Maccabi Healthcare Services health network in Israel. 
Galen Gastric demonstrated very high accuracy in detecting various types of gastric cancer, as well as Helicobacter pylori (H. pylori – a common gastric bacterial infection and a precursor for cancer), neuroendocrine lesions, dysplasia, adenoma and additional pathologies. 
Judith Sandbank, MD, director of the pathology institute at Maccabi Healthcare Services, said: "We have already started to use Galen Gastric in Maccabi and it helped us improve the quality of cancer diagnosis and patient care."