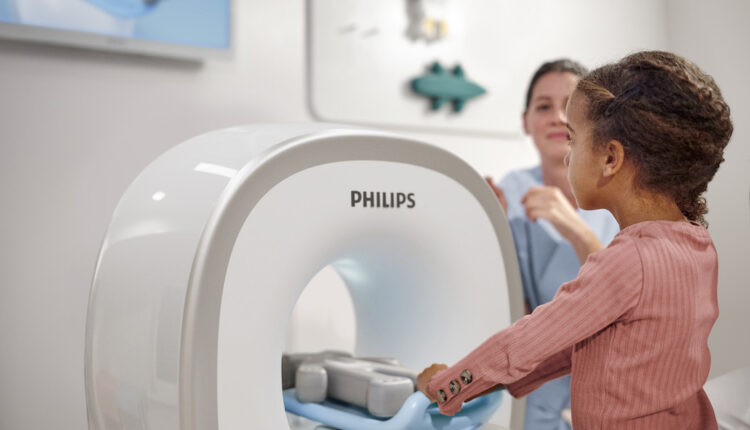 Philips' new tools help gamify the MRI experience for kids
Health tech giant Royal Philips is launching a set of tools to help children prepare for MRI scans, keeping them calm and avoiding the need for sedation.
Before the scan, pediatric patients can tap into the mobile app that gamifies the experience of undergoing an MRI. The app lets kids role-play getting an MRI with a virtual friend, so the child can be the operator encouraging the buddy to lie still to get an accurate scan. The app also uses augmented reality technology so children can see what the MRI system is like before they go to the hospital.
Once patients are ready for an MRI, the virtual buddy is also integrated into Philips' "Kitten Scanner," a handheld educational tool kids can use to scan stuffed animals so they understand the procedure better. The virtual buddy is also used during the MRI to guide kids through the scan, like telling them when to hold their breath.
"As adults, many of us can experience anxiety and stress during an MRI exam, and this is especially true for our youngest patients. By removing factors that can trigger stress, we are enhancing the patient engagement experience for pediatric patients to help improve outcomes," Werner Satter, general manager at Philips Healthcare Environment and Experience Design, said in a statement.
"With Philips Pediatric Coaching, we deploy gamification to help children better prepare for their MRI scan in a non-threatening environment at home, interacting with the same character and voice like Ollie the Elephant and friends, who also coaches them at the hospital, and can even coach them during the MRI procedure itself."
WHY IT MATTERS
MRIs can be frightening for children, and some can't hold still long enough to get a high-quality image. 
Some children undergo MRIs under sedation or general anesthesia, but that can cause side effects such as irritability after the scan. Although anesthesia is generally safe, there are some concerns that repeated exposure could affect brain development for children under age three.
THE LARGER TREND
Gamification is a growing trend in healthcare for adults and kids alike. A study published earlier this year in JAMA Network found adding video game elements like winning points and new levels promoted more physical activity in adults with uncontrolled Type 2 diabetes.
Digital neurotherapeutic company MindMaze, which recently announced $125 million in new funding, uses games to treat and rehab patients with brain injuries and neurological disorders. 
In the pediatric space, digital therapeutic maker Akili makes a video game-like therapy for kids with ADHD, most recently released on Android devices.
And Mightier, a Boston Children's spinout, makes biofeedback games using a wearable to teach emotional regulation to children.