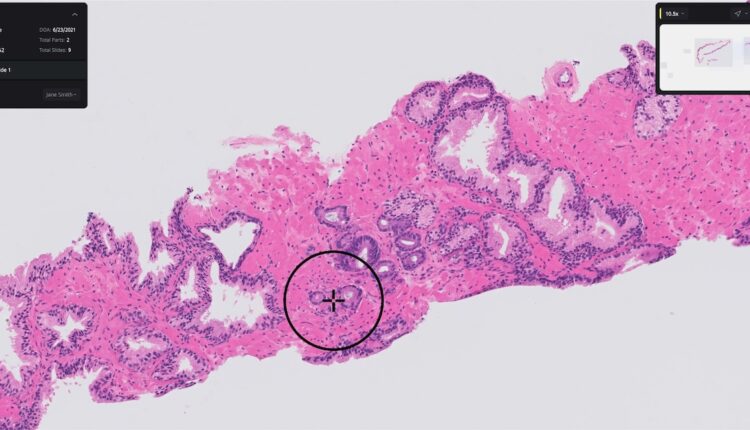 Paige receives FDA De Novo clearance for AI to detect prostate cancer
Paige, a digital pathology diagnostics company, has received De Novo marketing authorization from the Food and Drug Administration for its artificial intelligence software that helps detect prostate cancer.
The Paige Prostate software analyzes digitized biopsy slides and identifies areas that could be cancerous for the pathologist to review further.
"The approval is a landmark achievement in the field of digital pathology and demonstrates how robust our technology is when faced with the broad range of natural variations in tissue slides encountered in day-to-day clinical practice," Dr. Leo Grady, CEO of Paige, said in a statement.
"We are grateful for everyone at Paige and our clinical partners who have brought this new generation of computational pathology products to reality."
Authorization for Paige Prostate was based on a clinical study where 16 pathologists examined 527 prostate biopsy slides. The software improved the pathologists' ability to detect cancer on individual slide images by an average of 7.3% (from 89.5% to 96.8%).
Further, pathologists using Paige's software had a 70% reduction in false-negative diagnoses and a 24% reduction in false-positive diagnoses. Paige Prostate also helped boost nonspecialist pathologists' diagnostic accuracy to the same level as prostate specialists who were not using the software.
After previously receiving a CE Mark for the use of Paige Prostate in laboratories and hospitals in the European Economic Area, Switzerland and the U.K., the company is now offering the software in the U.S.
As a De Novo authorization, the FDA's action creates a new regulatory classification, meaning that other software with the same intended use as Paige Prostate may go through FDA's 510(k) premarket process.
WHY THIS MATTERS
Prostate cancer is the second most common type of cancer among men, resulting in lifetime diagnoses in roughly one in eight men, according to the American Cancer Society. It estimates there will be nearly 250,000 new cases of prostate cancer this year.
This form of cancer will cause death in roughly one in every 41 men, making it the second leading cause of cancer death in American men, behind only lung cancer, according to the American Cancer Society. About 34,000 people are expected to die from prostate cancer this year.
But thanks to advances in screening and treatment, the survival rates of prostate cancer are improving. The American Cancer Society says the five-year relative survival rate of prostate cancer is 90%, depending on the stage.
Paige's software has the ability to improve prostate cancer diagnostics, which can then improve patient outcomes, according to FDA officials.
"Pathologists examine biopsies of tissue suspected for diseases, such as prostate cancer, every day. Identifying areas of concern on the biopsy image can help pathologists make a diagnosis that informs the appropriate treatment," Dr. Tim Stenzel, director of the FDA's Office of In Vitro Diagnostics and Radiological Health, said in a statement.
"The authorization of this AI-based software can help increase the number of identified prostate biopsy samples with cancerous tissue, which can ultimately save lives."
THE LARGER TREND
Paige's pathology software first received FDA recognition in 2019, when it was granted Breakthrough Device designation. In addition to the prostate cancer platform, Paige also developed AI technology to detect breast cancer.
The company is heavily backed by investors, most recently bringing in over $125 million in its Series C raise.
Digital pathology is a growing field with the likes of Deep Lens, Proscia and PathAI also developing tech-powered tools to aid diagnosis.