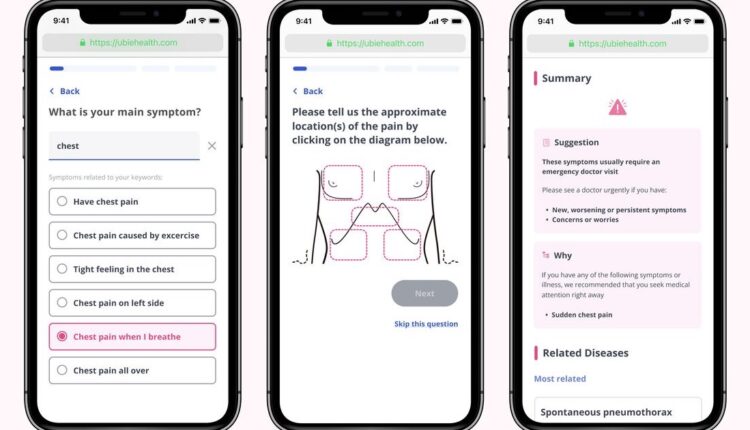 Japanese startup Ubie brings AI symptom checker to the US
Japanese medtech startup Ubie has launched its AI symptom checker in the United States.
The web-based Ubie AI Symptom Checker generates relevant questions about a user's symptoms from around 3,500 question data types based on its database of 50,000 medical papers. 
After answering about 20 questions, users can discover related diseases and more detailed information about their possible conditions. It also guides them to access appropriate medical care, leading them to the right health facility for a proper consultation.
The US version of this service comes with customised AI algorithms for questions related to symptoms and disease names, taking disease trends and other regional characteristics into account.
The web app, which covers more than 1,000 diseases, is free for use without the need for registration. At present, over three million people use the app monthly, the company claims. 
WHY IT MATTERS
Ubie noted on its website that even with the wide availability of information on the internet, "it is still difficult to make appropriate decisions about medical care".
"Our goal is to use technology to guide people to appropriate medical care and increase the average life expectancy worldwide," CEO and co-founder Dr Yoshinori Abe said in a separate statement. 
Since Ubie was founded in 2017, it has set its sights on global expansion. In 2020, it opened an office in Singapore.
"I am confident that Ubie, born of Japan's advanced medical technology, will benefit the health of the American people," he said. 
MARKET SNAPSHOT
Ubie is entering a competitive market for AI-driven symptom checkers. One of the biggest names in the space is publicly-listed firm Babylon, which offers a chatbot that helps users narrow down their potential conditions and direct them to care resources. Originally from the UK, it entered the US in 2019 – the same year its Polish rival Infermedica expanded to the market.
Last year, digital health startup K Health raised $132 million in a Series E funding round, proceeds from which it planned to use to build its mobile app. What sets it apart from the pack is its paid service option for patients seeking direct doctor consultation.