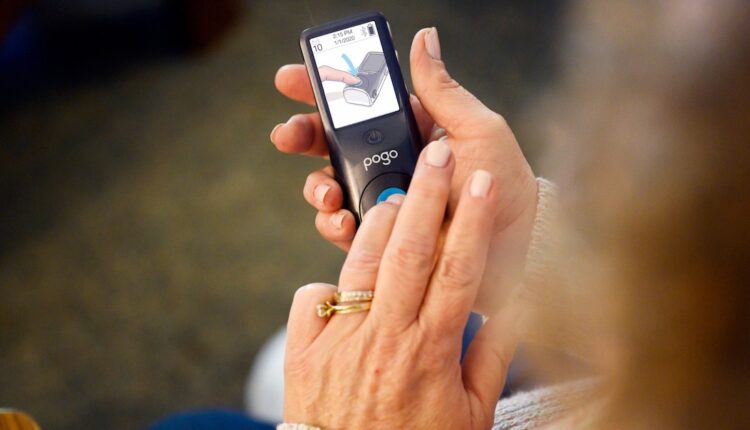 Intuity Medical launches POGO glucose monitoring system
Diabetes management technology company Intuity Medical announced Wednesday that its POGO Automatic Blood Glucose Monitoring System is available in the U.S.
The POGO system uses a cartridge with 10 test strips and lancets contained in one device, allowing users to test their glucose without carrying around separate supplies. 
The device can also connect via Bluetooth to the Patterns app, which collects glucose data and gives people with diabetes the ability to see glucose trends and share that data with their healthcare providers.
WHY IT MATTERS
In 2018, 26.9 million people of all ages had diagnosed diabetes, largely Type 2, according to the Centers for Disease Control and Prevention's national statistics report. Nearly 3 million adults ages 20 and older with diabetes started using insulin within a year of their diagnosis. 
Intuity is pitching its monitoring system as an easier and more discrete way for diabetics to test their blood glucose.
"For people with diabetes, routine blood glucose monitoring is central to the management of their diabetes. Yet for many, the barriers that come with using traditional blood glucose meters often prevent people from testing regularly,"  Emory Anderson, president and CEO of Intuity Medical, said in a statement.
"POGO Automatic only requires the press of a button to test and no need to access separate supplies, like test strips and lancets, so testing is less disruptive to a user's everyday life. It can be done discreetly within seconds, virtually anywhere a user chooses, whether it's at a table in a restaurant, while commuting to work on a train, or when exercising at the gym."
THE LARGER TREND
Intuity initially earned clearance from the Food and Drug Administration for its POGO device in April 2016. Later that year, the company raised $40 million to bring the system to the U.S. market. 
It scored $15 million in Series C funding in 2017, and $70 million in equity and debt financing in 2018.
Diabetes management is a popular space for digital health and health tech. Dexcom, maker of continuous glucose monitors (CGMs), received FDA clearance in July for an application programming interface (API) that would allow its CGM data to integrate with other platforms and devices. Last month, Garmin announced a suite of apps that use the API to connect to their smartwatches. 
Israel-based DreaMed and Welldoc's BlueStar diabetes management platform include FDA-cleared insulin dosing support.
Other digital platforms that help manage diabetes care include Glooko, Onduo and One Drop.