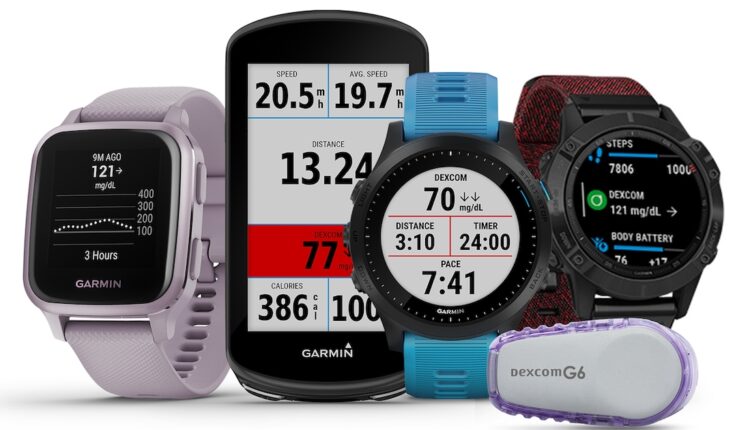 Garmin becomes first to integrate real-time Dexcom diabetes data into smartwatches
Garmin announced a suite of apps that will allow people with diabetes who use the Dexcom G6 continuous glucose monitor (CGM) to view glucose levels and trends on their smartwatch.
The Dexcom Connect IQ apps allow users with a compatible smartwatch or cycling computer to view their glucose levels as well as a three-hour history to get a better picture of where their levels may be headed during the day.
Dexcom Chief Technology Officer Jake Leach said Garmin is the company's first partner using their new API that allows third-party companies to include Dexcom CGM data on their platforms. The API received clearance from the Food and Drug Administration in July. 
"Dexcom's CGM systems have revolutionized how people live with diabetes, and we are thrilled to offer our customers an even more convenient way to see their glucose levels," Dan Bartel, Garmin vice president of worldwide sales, said in a statement.
"Users can not only see which way their glucose levels are trending without having to take their phone out, but can even do so while working out, when glucose levels have the potential to fluctuate quickly."
WHY IT MATTERS
In 2018, around 26.9 million people of all ages in the U.S. had diagnosed diabetes, largely Type 2, according to the Centers for Disease Control and Prevention. 
CGM use is projected to grow in 2021 and 2022, according to a survey of endocrinologists and nurse practitioners from SVB Leerink. But there are questions about whether CGMs are helpful for a large portion of diabetes patients, those with Type 2 who don't inject insulin.
Meanwhile, wearables like smartwatches have gone mainstream. A Pew Research survey conducted in 2019 found around one in five Americans say they regularly wear a smartwatch or other fitness tracker, and the Consumer Technology Association projects wearables will generate $487 billion in revenue this year. 
THE LARGER TREND
Earlier this year, Dexcom and other diabetes management companies signed a deal with pharma giant Eli Lilly to integrate with its Tempo Pen and Tempo Smart Button connected insulin products.
Garmin has launched several smartwatch options in 2021, and in June updated its Forerunner line to include VO2 Max capabilities designed to provide insights into cardiovascular fitness. 
Wearables have become a crowded space in digital health, including products from tech giants like Apple, Amazon and Google, whose Fitbit allows users to track glucose levels in the device's connected app.