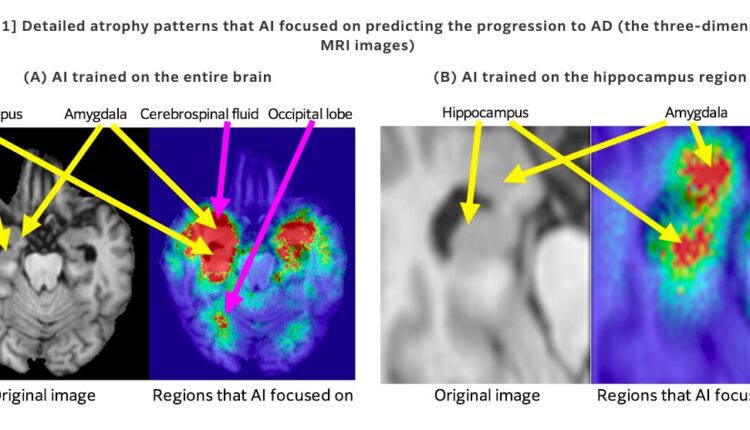 Fujifilm develops AI tech for predicting Alzheimer's progression
Fujifilm Corporation has developed AI technology that can predict whether patients with mild cognitive impairment will progress to Alzheimer's disease within two years.
According to a press statement, the AI Technology for AD Progression Prediction has been found to have high generalisability, predicting patients who would progress to AD with high accuracy, even for subjects from different cohorts. 
FINDINGS
The AI predictive technology was built using Fujifilm's advanced image recognition technologies. Using both AI and deep tech, atrophy patterns as seen on 3D MRI brain images were extracted and calculated from the hippocampus and the anterior temporal lobe, both regions that are strongly correlated with the progression of AD. From these patterns, AD progression is predicted.
The technology was trained using patient data from the North American-Alzheimer's Disease Neuroimaging Initiative (NA-ADNI), the world's largest AD research project. The study also used other clinical information such as cognitive test scores.
Using the data of North American and Japanese cohort patient groups from the NA-ADNI and J-ADNI projects, the technology was found to have a prediction accuracy of 88% and 84%, respectively. 
Findings from Fujifilm's study with Japan's National Center of Neurology and Psychiatry (NCNP) were published in the journal npj Digital Medicine.
WHY IT MATTERS
It is projected that the number of patients with dementia around the world will grow to approximately 139 million by 2050 from about 55 million today. Rising cases of Alzheimer's disease, the most common cause of dementia, are also predicted to continue. 
Despite advances in AD treatment in recent years, many clinical trials have not been successful given the low percentage of patients who progress from mild cognitive impairment to AD within two years and many of such patients remain unchanged even if placed under placebo. 
Fujifilm and NCNP aim to address these limits and contribute to accurately evaluate the efficacy of drug candidates for treating AD.
Moving forward, the partners seek to predict the speed of patients' progression to AD and investigate the possibility of improving the success rate of their clinical trials by excluding patient participants who do not progress to AD and reducing the gap in the distribution of progression speed between control and treatment groups. They also plan to conduct more clinical trials soon.
Moreover, the organisations look to apply the AI technology's algorithms to the brain images and clinical data of different mental and neural diseases, expecting that it will also be able to predict prognoses of mental diseases and responses to treatment. 
THE LARGER TREND
Two years ago, Alzheimer's Research UK started a similar initiative to improve the detection of neurodegenerative diseases like AD. It sought to develop and trial a diagnostic wearable device which could detect disease markers.
Last year in November, US-based BrainCheck scored $10 million in Series B funding, proceeds from which were planned to be used to accelerate the adoption of its mobile and web-based platform for assessing cognitive decline and screening dementia.