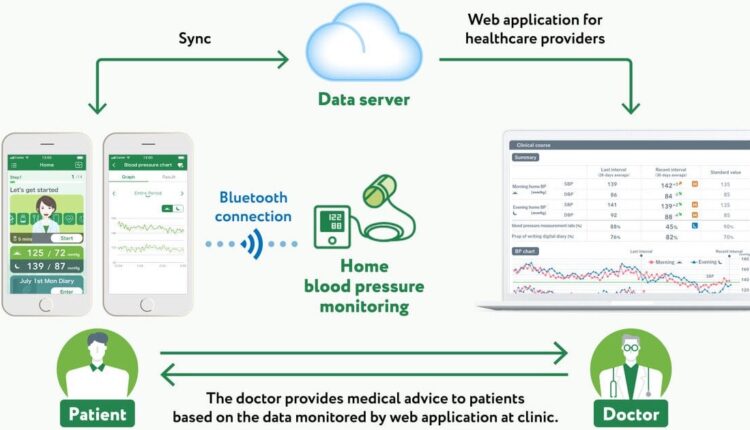 CureApp's DTx app for hypertension found to reduce heart disease, stroke risks
A landmark clinical trial has found that a new digital therapeutic app for hypertension is effective in reducing the risks of cardiovascular and cerebrovascular diseases.
Japanese medical technology startup CureApp collaborated with Jichi Medical University in the Tochigi Prefecture to conduct the third phase of the said clinical trial, which marks the world's first trial of a therapeutic app for hypertension. Findings were published in the European Heart Journal and presented to the European Society of Cardiology Congress last month. 
FINDINGS
The trial, done from January to December last year, was performed on two groups of patients with essential hypertension: a control group that only received guidance on lifestyle changes based on the latest guidelines set by the Japanese Society of Hypertension and an intervention group that used the app, along with applying the same guidelines.
The comparative study later found a 2.4 mmHg difference in the 24-hour systolic blood pressure between the groups based on ambulatory blood pressure monitoring. According to CureApp, this indicates a "significant hypotensive effect" in those users of the DTx app and a 10.7% reduced risk of developing cardiovascular and cerebrovascular diseases. 
In terms of morning home systolic BP – ​​an independent risk factor for cerebral apoplexy, there was a 4.3 mmHg difference between the groups or a reduction of 10 mmHg for the app users. 
WHY IT MATTERS
CureApp developed the hypertension DTx app to assists patients in maintaining lifestyle improvements as part of their treatment.
The app automatically delivers personalised treatment guidance to users, including advice on nutrition, exercise and sleep that are based on IoT blood pressure monitoring, lifestyle habit logs and notifications about behavioural changes. 
As it encourages awareness and helps patients to adopt sustainable lifestyle changes, the app provides a therapeutic effect that lowers their blood pressure, alleviating hypertension. 
CureApp also has a doctor's app where attending physicians can check on their patients remotely. 
Hypertension affects some 43 million people in Japan, according to the Japanese Society of Hypertension. It is also the highest risk factor for stroke and heart diseases, claiming the lives of an estimated 100,000 people each year. 
Government data previously reported that only 10 million Japanese people have received continuous treatment for the condition with 70% of patients failing to meet their target BPs or left untreated. Moreover, medical costs related to the condition went up to around 1.8 trillion yen (around US$16.5 billion).
MARKET SNAPSHOT
This year saw some companies developing digital therapeutics for depression. In February, Japanese firm Otsuka Pharmaceutical and Click Therapeutics from New York announced their remote clinical trial for a depression therapeutic app. 
Another New York-based company Happify Health was able to release what could be the first prescription DTx for treating major depressive disorder and generalised anxiety disorder. The Ensemble app helps patients acquire new skills and habits to manage their condition by using cognitive behavioural therapy, mindfulness and other techniques delivered through sequenced modules. 
CureApp has been working on some DTx apps over the past years. In August last year, it got regulatory approval from the Japanese government to market its CureApp SC, a prescription nicotine addiction treatment app and carbon monoxide checker. 
Some DTx apps under wraps include the NASH (nonalcoholic steatohepatitis) therapeutic app; the alcohol dependency therapeutic app; and the cancer patient support therapeutic app. 
According to Valuates Reports, the global market for digital therapeutics may reach a value of $13.8 billion by 2027 from $2.9 billion in 2019, growing at a 20.5% CAGR.