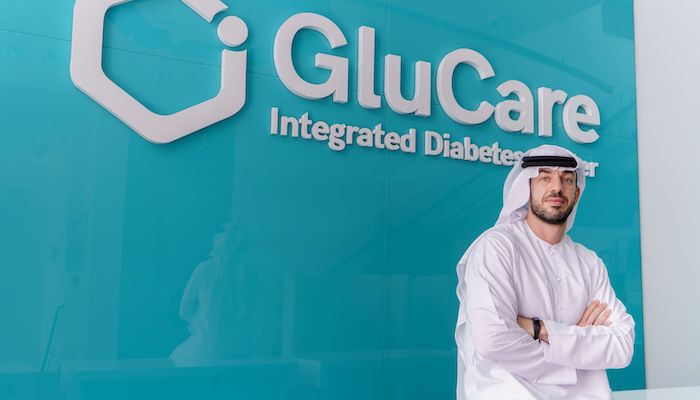 Continuous data monitoring and AI-assisted predictive medicine "better" for diabetes care, says clinic
Remote continuous data monitoring – a personalised, tech-focused approach to diabetes management employed by one Dubai-based specialist clinic – continues to demonstrate positive results in its patients, it has been confirmed.
Six months since the release of its first report showcasing preliminary outcomes of its care model, GluCare Integrated Diabetes Center has now published a second set of clinical results revealing further reduction of haemoglobin A1c (HbA1c) levels in its patients.
Appearing in the journal Diabetes Management, the clinic's latest results show that those undergoing treatment reduced their HbA1c levels by an average of 2.14% over 90 days.
In April, results showed an average HbA1c reduction of 1.7%.
This latest data includes patients assessed in the first report as well as new patients, the company confirmed to MobiHealthNews.
HbA1c – or glycated haemoglobin – is used to assess average blood sugar levels over a period of weeks or months. The higher the HbA1c, the greater the risk of developing diabetes-related complications.
"GluCare has demonstrated that practicing continuous data monitoring, alongside AI-[artificial intelligence] assisted predictive medicine, is vastly better in improving the health of those with the condition in comparison to episodical, and often symptomatic care," the company said in a statement.
WHY IT MATTERS
In an email to MobiHealthNews, GluCare co-founder and managing director, Dr Ihsan Almarzooqi explained that adopting a transparent approach to reporting data is crucial in improving the healthcare landscape in the Middle East and North Africa (MENA) region.
"We think that reporting clinical outcomes transparently, whether good or bad, is critical to the adoption of a value-based reimbursement structure in the MENA region, which is something we have been lobbying since our inception," he said. "It holds providers accountable, saves the system money, and most importantly, improves patient outcomes and provides them with choice on where to seek care."
As of figures last updated in 2020, the International Diabetes Federation (IDF) estimates that around 55 million people in the MENA region have diabetes; a figure that will rise to a projected 108 million by 2045.
In the United Arab Emirates (UAE), the IDF states that the current prevalence of diabetes amongst adults is approximately 15.4% (estimated from a population of 7,925,700 in its figures).
THE LARGER CONTEXT
GluCare – which debuted in the UAE in September 2020 – describes itself as the "world's first healthcare provider to employ integrated continuous data monitoring" and the "region's first healthcare provider to use digital therapeutics (DTx)".
Patients reportedly receive a connected kit, which includes a wearable blood glucose monitor that collects data in real-time. In turn, it uses AI to identify individual risk factors.
"The use of real-time data to understand our patient's health allows us to be more present with them in-clinic and prescribe care more effectively," said co-founder and chairman, Ali Hashemi. "In between visits, this methodology also allows us to stay connected with them and provide meaningful support. Our technology allows us to offer a more human-centric approach to diabetes care, one that works extremely well as highlighted by our outcomes."
Those who have adopted this approach to diabetes management have also reportedly demonstrated other metabolic-related improvements, such as "a 39% reduction in cardiovascular risk, 4.5% reduction in weight, 17% reduction in harmful cholesterol, 20% reduction in uric acid and a 6.2% reduction in inflammation."
ON THE RECORD
"If we are going to finally impact the costs and outcomes associated with diabetes management at a global scale, then we need to look at the entire value chain of diabetes, and not virtual-only solutions layered on top of traditional care," continued Hashemi. "Being able to launch our model-of-care in a country where uncontrolled diabetes is so prevalent, and to prove its effectiveness, is a blessing. 
"It foreshadows what is possible for patients globally who have long suffered with inadequate care and support in a healthcare system that simply didn't work for them."
AlMarzooqi added: "[Our care model is] not only effective, but it vastly outperforms traditional models of care. We believe diabetes management is ready for disruption. As a whole, the existing status quo on managing diabetics is simply not improving outcomes and lowering costs."
Last month, GluCare became the first healthcare provider outside of the United States to be awarded full URAC accreditation in Remote Patient Monitoring (RPM).